The KillaJoule project was possible thanks to a large number of great supporters and volunteers! If you want support our continued history making with the Green Envy and join our group of loyal supporters, check out the options to support the project here. You can get your name on the Green Envy, and get cool perks, including 3D printed models of the KillaJoule and the Green Envy.

Fabulous KillaJoule Supporters through the years
Volunteers:
It takes a village to build a streamliner! The KillaJoule record-breaking electric streamliner is completely a volunteer effort. I have been leading the effort together with my husband Bill Dube, who is also a mechanical engineer, but we are just the catalysts. It would never have happened without the help from dozens of people!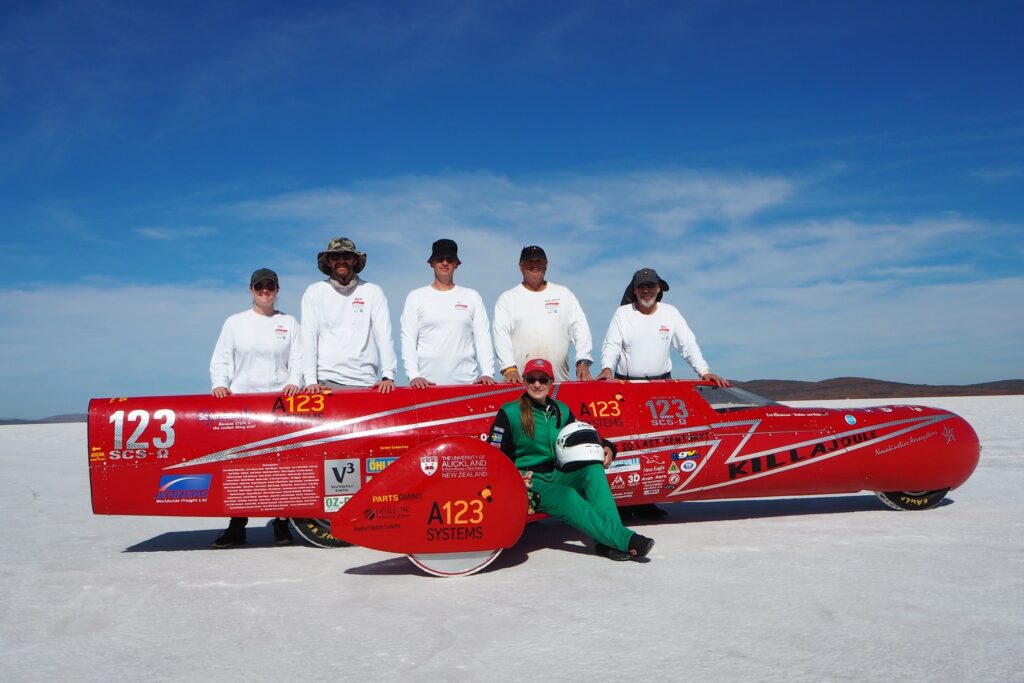 KillaJoule's last race before retirement was at the Lake Gairdner salt flats in Australia, where it set a new Australian record for electric motorcycles at 216.199 mph (347 km/h). The volunteer crew on the photo above made it possible: (from left to right) Amy Elliott (USA), Sam Elliott (USA), Kel Grayson (Australia), and Steve Lovell (New Zealand). All the way to the right is Bill, and I am of course the one dressed in green. The volunteer crew paid their own way to the event, and worked their butts off in 48 degree C (118 deg F) heat! They are absolutely incredible.
In addition to Amy, Sam, Kel, and Steve, a large number of people help out behind the scenes, and a large number of volunteers that have helped through the years. In addition to that, both people and organizations have provided financial support.
Supporters that made the 2019 Australian record with KillaJoule possible (all these names are still on the KillaJoule, and will stay there forever):
ATHOL WILLIAMS
LINDERACING.COM
JEF E-OTEAROA IKENN
T J BAIL
TONY CASTLEY
DUSTIN VAN NEK
COLIN JAY
ADVANCED MOTOBILITY
HANS MIKAEL HOLMSTRÖM
JUSSI SAVOLA
ALOEVERANS VÄNNER
OHENE GYAPONG
DR. KEVIN CLEMENS
TOM & ETHEL ELLIOTT
KETH ANDERSSON
BRUCE OMOND
TEAM RPM SIDECAR (CANADA)
HUBSINK
AL TAN
BRYAN DAVIES
ALLEN MILLYARD
JEREMY HERBER
ROBERT MASSEY
SANTINA KEITH
KEVIN DOUGLASS
JIM HIGGINS
DAVID HIRONIMUS
CATTLE-PROD
ROBERT FREYVOGEL
WOODY'S WHEEL WORKS
NASH VARGHESE
DAVID WALSWORTH
ARCHITEKTUR.DIEHL
TONY O'BRIEN
CHRIS BRUNE
JOHN DREESE
MIKE SCRAGG
GEOFFREY WAY
JAMES COZENS
CRAIG SILBY
TREVOR BECK
RÓISÍN HUGHES
MARTIN HOBSON
OZ-DIY ELECTRIC VEHICLES
LANDRACING.COM & SELDOM SEEN SLIM
RAYMOND COOPER
BOB ANDERSEN
GEORGE MITSUOKA
RICK & CATHY LARSON
CHRIS & DYAN BUTLER
BILL WALLACE
BLAKE ROBERTS
HENRIK NYBERG
TEAM ROZZA
JAMES HILL
KAYE RICKATSON
ERIC WU
DENNIS KEIM
AARON CHOATE
JILL BISHOP
PAUL JUDD
JAMES MOSER
CHARLES COPELAND
DONALD LOVE
FRANK & SHARI JOHN
DR. & MR. CRAWFORD
JESSICA HALLS
DR. MICHAEL KRANZHOFF
IRLINE JONSSON VAN ARDENNE
STEVE CHARLES
SCARLETT WEILAND & GEORGIA WEILAND
JOE SELLARS
DR. FILIP SALA
Dr. MARZENA SALA-TEFELSKA
SPEEDWAYBIKES.COM
JACK HOMEN
KENNETH MCKLINSKI
JAMIE PALMER
TRUMAN WILLIAMSON
NIKITA NUNN
EMILY LAYER
LACHLAN MCLAREN
STEVE WARRINGTON
TREVOR WALDMEYER
SCARLETT KELLER
ANDREW RODDY
KERRY MANNING
KEL GRAYSON
Loyal supporters through the years that helped make the dream of the KillaJoule come through (in alphabetical order):
A. FURGIE
A-1 MOBILE MECHANICS INC.
ABBIE & JOHN MABEN
ALEXANDER & JEMMA
AMY & SAM ELLIOTT
ANDERS JONSSON
ATHOL WILLLIAMS
AVON AERO
BEN COLENSO
BILL & CAROLE CLAPP
BO HALL
BOB & SHERRY ANDERSEN
BOB SCHNEEVEIS
BOB, GALEN, TIM & JOSH at ALRECO
BRAD PALMER & CHARLES VESELY
BRENT & KENT SINGLETON
BRIAN LECKEY
CARTER & THEO BROWN
CARTER BROWN
CASEY FERRY
CATHY WELSH WISE
CHRIS ROBLES
CHRISS HORSTMAN
CLAY & GARY GARDINER
COLLE ROCKY
DAN & TERI LUMIAN
DAVID DUQUESNEL
DEE & STEVE WEST
DELVENE MANNING & LUCAS REBER
DWAYNE McKENZIE
EBIKES.CA
ERIN & ANDY HUNTER-SILLS
FIRE SYSTEM SERVICES LLC
FRANK & SHARI JOHN
GEORGE MITSUOKA
GEORGE REEVES
GERRY JENKINSON
GREEN SHED CONVERSIONS
HENRIK NYBERG
HOWIE & MARIAN CAMMACK
JAMIE LEBEN
JIM CORNING AND CREW at NOVAKINETICS
JIM DAWSON
JOAKIM ASPE
JOE SELLARS
JOHN & MARILYN RENWICK
JOHN & SUSIE BRUSZENSKI
JOHN BAECHTEL
JONAH MYERBERG
JOSH ALLEN
KAREN, NICK & ELLIOT WAGNER
KERRY MANNING
KEVIN SMITH & KATIE COLLINS
KIWI-STEVE & KERRY LOVELL
LARRY RINEHART & CHRIS BRUNE
LENNART "VIKING" HELLBERG
LOU & KATHLEEN FISCHER
MALTE JAENSCH
MARK THOMASON
MARY & CHAD CARVER
MATTIAS PILV
MAX LAMBKY
MICHAEL LAMPERTH
MIKE COOK JR.
MIKE COOK SR.
MIKE MOSER
MIKE STOCKERT & ALICIA KELLY
MORNINGSIDE ELEMENTARY
NICK, SHANNON, ISAAC, RYAN, KYLE, CANH, WHIT, JAKE, KEVIN, DAVID, JOEL, MUJEEB & JIM at A123 SYSTEMS
NORM SMITH
OLIVER ELECTRIC CONSTRUCTION INC.
ONA REED
PAUL BLUNDELL
PHIL HAWKINS
PHILIP COURT
RAINER KOPP
RAY & MARY CHRISTOPHER
RICH LARSON
RICHARD & MIKE TYRRELL-EAD
RICHARD JESCH
RICHARD JESCH & LINDA OLSEN
RICK LARSON
ROCKY ROBINSON
SCOOTER GRUBB
SCOTT & APLE SNEDDON
SCOTTY & SUSAN POLLACHECK
STEVE & RAE CICIORA
SVEN & LENA HAKANSSON
TATER PICKLE TOYS
TOM & RO HUTCHENSON
TOM & ROSEMARY RIT
TOM DOLLMEYER, SCOTT BEARD, MITCH PETERSON, CHARLES VESLEY, BRAD PALMER, MICHELLE HUNT & ALYSSA JENKINS at CUMMINS INC.
TOM RUBIN, KENT GORMAT & DOUG GONIGAM at PARTS GIANT
TOM, TABBY, OLIVER & EMILY PARKER
TOMAS & LENNART HAKANSSON
TRACY HELMHOLD
VALERIE THOMPSON
VICTOR K. NITTOLO
WENDELL NILSON
WILL & DAWN MATHEWS
WOODY & CHRIS WITTE
… and probably a bunch of other people that we forgot to include on the list.
Are you one of the forgotten? Or know someone we forgot? Pleeeease let us know so we can add them/you!
Thank you all! // Eva & Bill
Do you want your name on the Green Envy?
Is your name on the KillaJoule, or did you miss out? Regardless of which, you can still get your name or logo on the Green Envy! Check out your options here.
---
Did you find a mistake on this website? Is there information that is outdated? Or did we completely forget to include someone? Please let me know! It is hard work to keep websites updated, and I appreciate if you tell me when something doesn't look right. Thank you! // Eva